BRANDING | PACKAGE DESIGN
Ayrshire Farm | The Furry Foodie | 2010
The Furry Foodie™ is the brand name of a new product by Ayrshire Farm (Virginia, USA). This Raw Meat Pet Food is produced at the innovative farm of Sandy Lerner (Cisco Systems, Urban Decay Cosmetics). Designink was responsible for the new Logo and Package Design.
Design Process
The Design Brief was formulated by means of extensive research (market analysis and definition of target groups) and a brainstorming session. The brand needed to address the environmentally conscious consumer looking for a healthy and premium petfood.
Initial sketching resulted in a Design Proposal that cleverly combined the playful nature of the brand name and recognizable pet-like features.
Client feedback made clear the design would have to apply for both dog- and cat food formulas. An additional symbol (Complete Raw Meat Meals) underscores the premium quality of the ingredients and enables future product groups to do the same.
The result is a powerful brandmark which can be used for various product groups in the category Raw Pet Foods of the Home Farm Store, the gourmet retail store of Ayrshire Farm.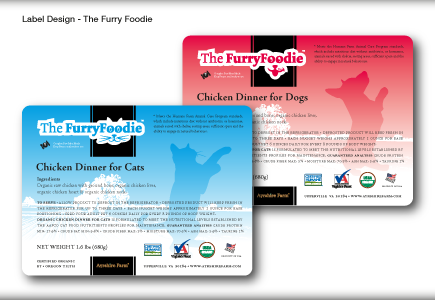 The market introduction will be long and slow, therefore a temporary sticker was designed to label existing packaging. In due time all dinners (Organic Turkey, Beef, Veal, Rabbit and Chicken) will have their own package design.